All About Online Therapy
Online therapy has been around for many years, but it's only recently that online therapy websites have become popular. With the increasing popularity of online therapy, more people are now choosing online therapists over traditional in-person sessions with a therapist. Online therapists can offer benefits such as lower prices or even being able to see someone at any time of day without having to schedule an appointment. However, there are also downsides to online therapy which you should be aware of before deciding if online is right for you. This article will discuss all types of online therapy. So that you can decide what is best for your needs and better understand just what goes into an online session.
What Is Online Therapy?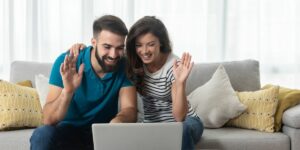 Over the internet, online therapy, also known as e-therapy, teletherapy, or cyber-counseling is the practice of providing mental health services and support to patients via computer. Services can be provided by email, text messaging, video conferencing, online chat, messaging, or internet phone.
In real-time, such as through phone conversations and text messaging, or via email communications, online therapy can be conducted. Though this type of treatment has its limits, it is quickly becoming a vital tool for an ever-increasing number of people.
The most essential tools for communicating in internet therapy include:
Email is a way to communicate.
Mobile apps are for phones.
Instant messaging that is real-time
phone number
Text-based chats are easiest because the text is visible to everyone.
video conferencing
However, since the advent of the internet, an ever-increasing range of online money-management services has emerged. Desktop computers or laptops can be used to access such services, although mobile applications are also becoming increasingly popular.
What Are The Types Of Common Therapy?
According to their demands, counselors and therapists assist their customers in a variety of ways. Therapists provide a range of counseling options. Marriage therapy and family counseling are one of the most common types of therapy. There are many other types too, like career counseling, rehabilitation counseling, educational counseling, and substance abuse counseling. In addition to this list, there are also more general financial and parenting counseling services such as debt counseling, art therapy, eating disorders, child psychology, and musical therapy. Everyone has difficulties in their lives, so whether it's in a professional or personal sense, contact your finest counselor to assist you out of your bind. Finally, you may live a healthy and prosperous life.
Online Therapists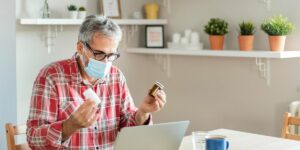 There are therapists in the "real world" who can have different degrees of experience. Online therapists may also have different qualifications and licenses. Although some websites promise that people can become online therapists with a quick and easy path, becoming an online therapist takes the same education and training as a traditional in-person therapist.
However, the process of online therapy is very hard to regulate since therapists can operate from anywhere in the world. This makes it difficult to enforce state laws that regulate education, training, and scope of practice.
What Online Therapy Can Help With?
Some of the conditions that can be treated with online therapy include:
Post-traumatic stress disorder
E-therapy can be useful for some conditions, but it is not right for everyone. If you have a condition that needs close or direct treatment or in-person intervention, you should not use e-therapy.
Benefits of Online Therapy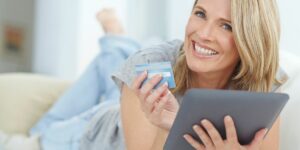 Here are a few examples of why online therapy has become the first choice for so many people:
Accessibility
The major benefits of online counseling are that it is available to everyone, regardless of their age or gender, and that it doesn't matter where you live. Whether you're from an urban area or a rural location, you're welcome to seek assistance for anxiety therapy. The mentally disabled or unable to get to the therapist for mental activities may also participate in therapy sessions from the comfort of their own homes. Online Therapy has also been observed to help teenagers and young children.
Affordability
Many people believe that internet counseling is costly, but it is actually quite inexpensive for both the counselor and the client. Web consulting is significantly less expensive than traditional therapy if you are ready to acquire services but are hesitant because of their cost. You must pay an extra fee for therapy sessions that you may conduct from the comfort of your own home. The therapist, on the other hand, is more likely to have lesser expenditures like no rent for offices, transportation costs, or utilities.
Convenience
Both the client and the counselor benefit from online counseling. It reduces stress while scheduling appointments with a therapist, which is an enormous pain in traditional therapy. You may now conduct therapy for depression whenever you want and whenever it's convenient for you. According to your area, you may possibly book an appointment with a therapist up to 24 hours in advance. According to the study, online therapy is the most effective for people who are experiencing unpleasant experiences while discussing their issues with an unknown person face-to-face as they take traditional medication.
Privacy
At a psychotherapist's office, worried about running into your colleague? You may have complete seclusion with online therapy. You can arrange your appointments to take place when you're home alone.
Social Embarrassment
Online counseling is a good way to get help without needing to visit the counselor's office. It is easier than in person because you can share your thoughts, problems, and experiences with the counselor without anyone else seeing. Online therapy is good because it does not matter if somebody sees you. The client knows that nobody can see them, which makes them feel less embarrassed. This is why online therapy becomes popular. It helps people get the best help without being afraid of what others will think.
Does Online Therapy Work?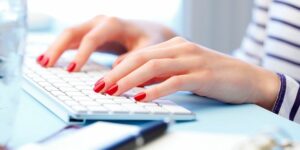 According to a study published in the Journal of Medical Internet Research, e-therapy is as effective as face-to-face therapy. In one research, researchers discovered that online cognitive behavioral therapy (CBT) can effectively treat depression, anxiety, and illness-related emotional suffering when combined with medical treatment.
According to certain experts, e-counseling is more successful than face-to-face counseling. A meta-analysis of 17 research found that online CBT was more effective than face-to-face CBT at reducing depression symptoms.
Online therapy, on the other hand, has considerable advantages. Many patients who have used internet mental health therapies have expressed their support for it. Patients receiving mental health treatment via video conferencing in studies reported "high levels of contentment."
How Much Does Online Therapy Cost?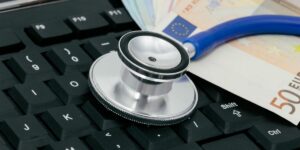 The cost of online counseling is frequently considered more reasonable than face-to-face therapy. The average cost for an in-person session ranges from $75 to $150 per session. You may end up spending up to $300 every month if you see a therapist once a week, which would total to around $600 monthly.
E-therapy sessions are usually cheaper than face-to-face sessions. E-counseling is also based on a subscription model, which means that you will pay the same amount no matter how many times you write to your therapist.
Things To Consider Before Choosing An Online Therapist?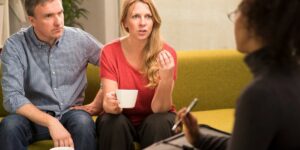 If you're looking for an online therapist, make sure you hire the correct one. However, there are a variety of counselors on the internet. Therefore, you must pick someone who can help you improve your life. One point to consider is the degree of your service. You will need to think about this when making a decision. Look at the factors below:
Ask Your Friends
Ask your friends about the therapists they've used for a reference list. If no one in your circle is aware of the therapist, you can go online to learn more about him. Find out what the top list of psychologists near you is. Keep in mind that while conducting research, thoroughly check out any information on the doctor's education and experience.
Schedule An Appointment With A Therapist
Your next step is to interview the therapist. You should ask them questions about their education, training, and other things like certificates they have. Ask them about their previous cases that they've solved.
Questions You May Ask
If you are not ready for the questions, you can write some on a list.:
Are you a doctor? If yes, what type of doctor?
Do you have years of experience working with problems such as depression, sleeping difficulties, and relationships?
How much does therapy cost?
What kinds of treatments will you use?
Pay Attention To Communication Skills
When you contact a therapist on-call or in person, you should first notice him, since that is how he greets you. Is he enthusiastic about assisting you? Is he the individual who would make it easy for you to decide if he's the best fit for you based only on his communication skills?
Read Client's Feedback
Reading client testimonials is one of the most dependable methods for locating the best online therapist. Find out how many people have used his services and whether they feel better now and again as a result of it. It may assist you to learn more about him in-depth, giving you greater self-assurance while going for therapy sessions.
Types Of Counseling Therapists Provide
Counseling is when you talk to someone about your problems. It includes three types of counseling, which are:
Development Counseling
Counseling is an important tool used by the military. Counselors talk to soldiers to make them strong. If they are healthy, they can do good things like finishing their goals and managing their objectives. Leaders teach men how to work with other people on teams so they can do a good job.
Event Counseling
This counseling includes training in how to handle situations like sudden attacks, shocks, personal issues, financial crises, and duty stress. This is broken up into different kinds of counseling like transition counseling, referral counseling, promotion counseling, integration counseling, and more.
Performance Counseling
There's more to it than simply recruiting and hiring, however, that is the bulk of most CEOs' jobs. This entails planning, establishing professional goals, executing strengths, and working on flaws—all work that should be done individually so that they perform best in their career. Leaders can help you go through each step and develop the greatest performer from you.
Conclusion
Online therapy has been around for many years, but it's only recently that online therapy websites have become popular. With the increasing popularity of online therapy, more people are now choosing online therapists over traditional in-person sessions with a therapist. Online therapists can offer benefits such as lower prices or even being able to see someone at any time of day without having to schedule an appointment. However, there are also downsides to online therapy which you should be aware of before deciding if this is right for you! You've come so far and we're here with you every step of the way on your journey towards mental wellness.
A Word From Mantra Care
Your mental health — your psychological, emotional, and social well-being — has an impact on every aspect of your life. Positive mental health essentially allows you to effectively deal with life's everyday challenges.
At Mantra Care, we have a team of therapists who provide affordable online therapy to assist you with issues such as depression, anxiety, stress, relationship, OCD, LGBTQ, and PTSD. You can take our mental health test. You can also book a free therapy or download our free Android or iOS app. We also provide the best corporate online therapy program. We provide effective online therapy for women.