Mindmantra is the world's Best digital clinic for multiple addictions
Trusted partner to Companies across 40+ Countries
The premier online monitoring tool that keeps track of your mental health issues and allows you to communicate with qualified mental health care doctors and experts via video conversations.
unlimited one-on-one mental health consultation sessions.

chat with licensed specialists/expert

Free consultations on the strategies to follow as per the needs of the patient.

Personalized mental health care suggestions are written just for you and adapted as you need.

24/7 support from MindMantra specialists.

Build a custom treatment plan using MindMantra's free plan library.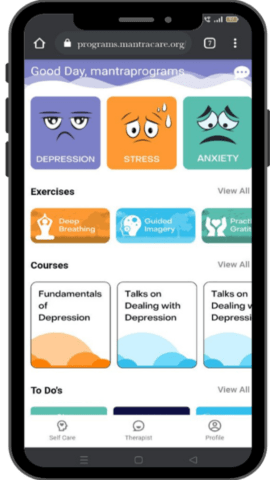 MindMantra's mission is to offer results
The only tool that allows you to track your own progress by providing meaningful, straightforward feedback and real-time statistics. We provide you with the tools you need to know exactly how you're doing so you can improve more quickly.
No matter where you are, MindMantra is always at your disposal
Unlimited consultations with certified mental health care professionals who will design a personalized rehabilitation plan for you and be accessible for continued communication to answer your questions, alter your exercises, and eventually return you to your life.
MindMantra is a straightforward and straightforward program

There's no one around. There isn't any time to waste. You and your smartphone can go wherever you want, anytime you want. We break up your therapy into tiny daily sessions since doing something every day leads to a more consistent and effective recovery.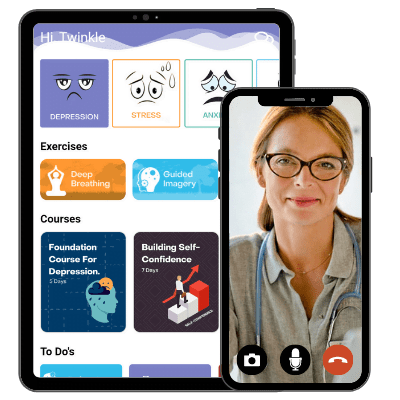 How can you get in touch with a mental health specialist via the internet?
Our health care professionals have received extensive training in order to provide online mental health consultations. They'll figure out what's wrong with you and make therapy recommendations tailored to your needs. These therapeutic procedures may be done at home and come with easy-to-follow videos and instructions.
Your physicians will let you pick from a video collection of over 100 different therapeutic techniques and treatments. They can even make and send you their own video.
If you keep to the mental health regimen, your health care specialists will set you specific short- or long-term goals, and you will be able to demonstrate improvement.
Mantra Care, a global supplier of digital healthcare services, owns MindMantra. Our staff is made up of devoted and brilliant people from ISB, Wharton, and Mckinsey, and we've been named one of the most creative organizations.