Who Is A Physiotherapist?
The Physiotherapist is a healthcare professional who assesses, diagnoses, and treats people of all ages with physical disabilities or injuries. Physiotherapy can help improve your range of motion, strength, balance, and coordination. Physios also work closely with surgeons to prepare for surgery and rehabilitate after it's completed. Physiotherapy may involve manual therapy techniques such as massage or joint mobilization; the use of aids like crutches or braces; exercise programs; education on how to prevent injury from happening again in the future, etcetera. Physiotherapists are experts in this field as they have been trained specifically in musculoskeletal health care.
If you like working with people, want to work in a physical job, and are interested in how the body moves and heals, then physiotherapy might be right for you.
Physiotherapists work with different people. They help people to feel better. Some specialize in sports, pediatrics, education, or health promotion. Others focus on recovery and orthopedics and trauma after major surgery.
Our doctor shadowing and global health programs will let you see a range of cases. These include orthopedic surgery and trauma cases. You are paired with a doctor that is your mentor. You are also matched with people who have similar interests for two full weeks in international hospitals and clinics. We can help you decide if being a physiotherapist is right for you.
Role of Physiotherapists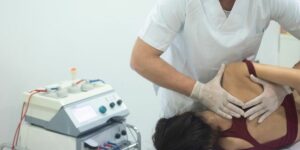 A physiotherapist is someone who helps people with injuries, illnesses, surgery, or getting old. Physiotherapists work with patients to determine and enhance their body's movement and function in order to relieve pain, disease, or physical injury. Physiotherapists concentrate on increasing the quality of life and mobility potential of their patients through prevention, intervention (treating), promotion, and rehabilitation.
What Do Physiotherapists Do?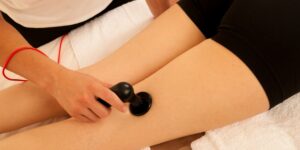 Physiotherapists assist in the rehabilitation process by creating and restoring body systems, particularly the neuromuscular (brain and nervous system), musculoskeletal (bones, joints, and soft tissues), cardiovascular (heart and blood circulation), and respiratory systems (organs that aid breathing, such as the trachea, larynx, lungs, and diaphragm). Physiotherapy is often used alongside other medical treatments. Physiotherapists can also work with patients who have disabilities or loss of body function as a result of the patient's age (geriatrics), injury, diseases such as arthritis or stroke, congenital deformities like cerebral palsy, or spina bifida, or other health conditions. Physiotherapists can work in a variety of settings including hospitals, private practice clinics, community centers, schools, and homes for their patients.
Physical therapists are experts who use their knowledge of anatomy, physiology, and biomechanics to treat patients. Physiotherapists collaborate with other healthcare professionals such as surgeons or specialists to create and assess treatment regimens that include manual therapy, therapeutic exercise, movement, and the use of technological equipment like ultrasound therapy.
Each physiotherapy treatment plan can have different things. A typical one might include:
Movement And Exercise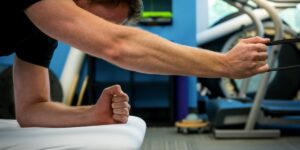 Based on a person's current health and specific requirements, they can be approved for disability.
Manual Therapy Techniques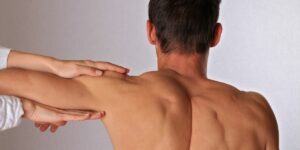 A physiotherapist helps you get better by using their hands to massage your muscles. They can help with stiffness and pain. They also help blood flow to injured areas in the body.
Aquatic Therapy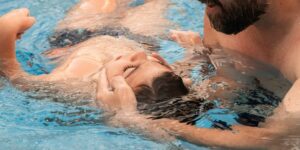 Therapy in water is a way to help people. People do water therapy in pools or hot tubs.
Other Techniques
There are many treatments that can help ease pain including electrotherapy, ultrasound, heat, and cold. Acupuncture is one of the best.
In addition, a physiotherapist can be responsible for:
Supervising and managing the therapists and staff who work for you.
Doctors gather patient information and write reports.
Doctors should try to help their patients by educating them on how to prevent and/or improve their condition.
You can learn a lot about new techniques and technologies. You can do it on your own.
Doctors and nurses need to talk to each other. They need to know what each person is doing.
People need to be responsible.
Managing risks is important in the workplace. You can reduce your chance of injury by making sure you work safely and wear the right equipment.
Physiotherapists At Workplace
Physiotherapists can work for independent practices, health clinics, hospitals, and sports clubs. After 2-5 years of experience working as a physiotherapist, they may choose to start their own practice or work for the National Health Service (NHS). Physiotherapists generally work with patients over several sessions and months, and client connections are crucial. Work hours vary based on the workplace setting, but in practice, a physiotherapist may anticipate working 8-10 days on set or shifting shifts.
Personality and Skills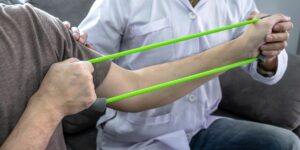 Physiotherapists work in a team with other health care providers. A competent physiotherapist will have the following abilities and personality characteristics.:
Initiative, patience, sensitivity, and tact are important qualities to have when you want to do something.
You need good communication skills to do this job.
Need to do things that are not just about you. You have to work with people.
Problem-solving skills are used when you have a problem. You need to use your brain to figure out the problem.
You are good at organizing things.
Also, you need to be encouraging. Moreover, you also need to be empathetic. But you also need to be firm.
A good relationship with patients and their families is important. You should make them feel comfortable.
a genuine concern for patients' health and well-being.
An interest in anatomy and physiology can help you to know more about the human body. This is not a required course for school but it can be helpful if you want to be a doctor or nurse.
You need to be able to work hard when you have a lot of things to do in a short time. You also need to be able to manage your time so that you can get everything done.
Top Qualities Of Good Physiotherapist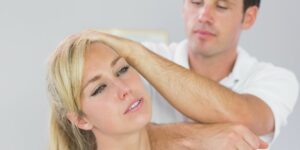 A physiotherapist helps people get better. They do this by making sure things are in the right place and that the person feels good. A good physiotherapist should be someone who makes you feel better after they help you. They should also be nice and not yell at people.
Knowledgeable
The problem is that when you don't have updated information, you're not able to solve what's wrong with the patient. One must expand their knowledge depth in order to find solutions to what ails them. Scholarly publications, peers, or rickety text are all available as sources of information. The science of physiotherapy improves and gets more complicated. It is critical to remain a lifelong learner.
Smart
A physical therapist must examine and analyze the patient's condition in order to treat them effectively. As a result, observation skills must be improved so that ailments can be detected quickly.
Patient
It's vital to act politely with people who approach us. We may become desensitized to the suffering of others due to continual exposure to individuals with similar issues. Sometimes, patients experience a lot of suffering before their issues are identified. We must comport ourselves with great patience in dealing with them.
Comprehensible
We will become familiar with a patient's suffering after many encounters because we will diagnose it. The most difficult part is to inform the patient about the issue and how they may cure it, as well as important issues that the patient must address. We should explain everything so they know it well. But don't scare them. Be like a teacher who is telling the children what to do, not scolding them for doing something wrong.
Humble
Being humble is good. This means we learn things by ourselves, with people around us like our colleagues, and finally from our patients. Education is important but it helps more to learn from experience.
Positive
The world is full of beauty. There are several sides to reality. A top physiotherapist knows how to accentuate positive ideas while negating negative ones. The attention may be directed towards what is working and the gains that have been made so far. Patients will trust us if we truly believe in what we say.
Caring
It is critical to be sensitive to the patient's requirements. This also implies that we should not pass judgment on patients in their time of need.
Realistic and Lifelong Learner
As the saying goes, no matter how many lifetimes we live, there is always more learning to be done. We must be realistic about what we can accomplish and what is beyond our capabilities.
Professional Behavior
The individual is a competent individual with adequate understanding and abilities, who is aware of his or her own limits, and who is honest. If required, he or she seeks further knowledge to assist patients. He or she maintains current on both his or her expertise and skills. A patient's needs come first, he is dedicated, and he interacts with those who deal with the patient on a regular basis. He offers suggestions to help the patient with his history and current pain state. He maintains a professional demeanor, maintains confidentiality, and pays attention to each individual as if they were his only one.
Flexible
It's possible that the patients will not arrive on time, the computer may crash, the goniometers may break, or something unforeseen might happen. We must adapt and innovate gradually in order to make this job less difficult for ourselves as well as others around us.
Well-Rounded
It is critical to have all of the abilities required, and at least one physical therapy should be mastered. This includes prior experience (in a variety of areas) as well as a strong basic understanding. The desire to learn more about cultural hobbies such as art, music, science, and social studies. These abilities and interests help physiotherapists relate to their patients and understand their everyday demands. A well-rounded physiotherapist can create rehabilitation programs that include treatment as well as functional and meaningful aims.
Interpersonal Skills
A good physiotherapist is a good listener; he empathizes with the patient and asks relevant questions (which means that he is listening). He establishes trust and has effective body language. Furthermore, he introduces himself; makes eye contact, and addresses the patient personally, counsels him, and considers his point of view.
A Word From Mantra Care
If you're looking for a healthcare professional who specializes in physical disabilities and injuries, the physiotherapist is the perfect fit. Physiotherapy can help improve your range of motion, strength, balance, and coordination by providing manual therapy techniques like massage or joint mobilization; exercise programs; education on how to prevent injury from happening again in the future. The Physio will work closely with surgeons' pre-operative assessments and post-operative rehabilitation to ensure that everything goes smoothly during surgery as well as after it's complete. To learn more about what physiotherapy has to offer visit our website today!
If you are looking for more information on this topic or on Diabetes treatment, Online Therapy, Hypertension, PCOS treatment, Weight Loss, and Physiotherapy, please visit mantracare.org or feel free to reach out to us at +91-9711118331 or email at [email protected]. You can also download our free Android App or IOS app.
Here at Mantra Care, we have an incredibly skilled team of health care professionals and coaches who will be happy to answer any questions and provide further information so you know what's best for your unique needs.