Home Remedies For Diabetes
Nature has blessed us with herbs and natural leaves that work as medicine for various monstrous diseases. Even diabetes can be treated with such natural medicines. Natural leaves can boost up your healing process and treatment therapy for sure. Therefore, you must include some healthy leaves in your diabetic menu and get the countless benefits they bring. Some home remedies for diabetes are- 
Papaya leaves
Bitter gourd leaves
Olive leaves
Curry leaves
Bay leaves
Neem leaves
Mango leaves
Aak leaves
Stevia leaves
Papaya Leaves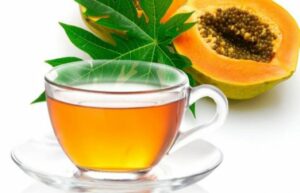 Papaya leaves are often used in Mexican folk medicine as a natural therapy for treating diabetes and improving blood sugar control. Studies in mice have found papaya leaves to have potent antioxidant and blood sugar-lowering effects. Papaya leaf juice can be beneficial in boosting immunity too.
Bitter Gourd Leaves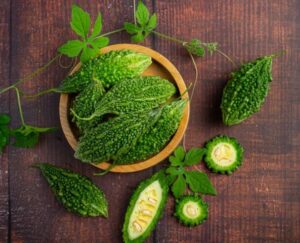 This vegetable is synonymous with Diabetes as it is said to contain charanthin, a chemical that helps in lowering blood glucose levels. On regular consumption, the bitter gourd increases the secretion of insulin to combat the imbalances caused.
Just boil some leaves of bitter gourd, and allow it to boil over medium flames for 10 minutes. After that, strain the tea and it's ready. 
Olive Leaves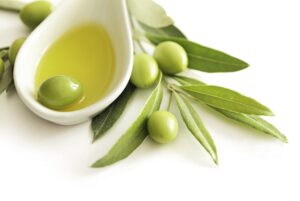 The antioxidants in olive leaves can lower your blood sugar and help stabilize it to maintain healthy levels. Researchers find that this effect helps treat people with diabetes and may prevent you from developing the disease. Studies also show that olive leaf extract can reduce your body's insulin resistance, one of the biggest risk factors for diabetes.
Soak these leaves in the water and drink them in the morning or make tea.
Curry Leaves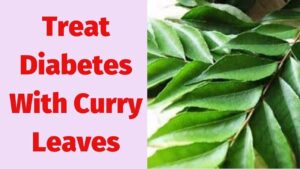 Curry leaves are said to be rich in fiber content. These leaves contain a special kind of fiber that plays a significant role in lowering blood sugar levels. Curry leaves are said to help in the adequate release of insulin in the body and reduce blood sugar levels. For those who are diabetic, curry leaves are the ideal natural medicine.
Consuming fresh curry leaves on an empty stomach can keep diabetes at bay. 
Bay Leaves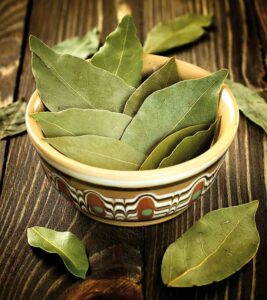 Bay leaves or tej patta reduces total cholesterol and glucose levels in people with type 2 diabetes. Studies performed on diabetic patients showed a 30 % decrease in blood sugar levels after 30 days. This study demonstrates that consumption of bay leaves, 2g per day for 30 days decreases risk factors for diabetes and cardiovascular diseases. 
Neem Leaves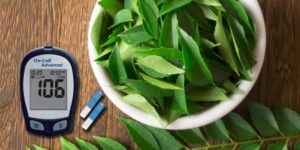 Leaves of this valuable plant have an abundance of flavonoids, glycosides, and antiviral compounds. Studies find that neem is able to curb diabetes in non-insulin depends on diabetic patients too. It is a highly recommended herb that can definitely provide relief from the problem of blood sugar spikes. You can either chew the leaves or drink them with water and other juices you prefer for your diabetes routine.
Mango Leaves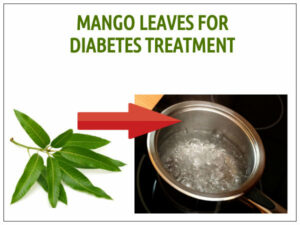 Cannot imagine drinking tea with fresh mango leaves? Think again! It can do wonders for people with diabetes. Boil 15 mango leaves for 15 minutes, strain it and drink this concoction on an empty stomach. If one drinks this even once a day, it can help balance sugars in the bloodstream.
Aak Leaves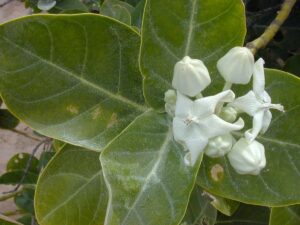 Find out an aak plant in your area and pluck two complete leaves. Be careful while plucking because white color liquid coming out is very harmful to the eyes. Wash the leaves. Put one aak leaf on the sole of your foot, face the rough part of the leaf towards the sole. Put on the socks and keep the aak leaf covered with socks for the whole day. Do the same thing with the other foot. Remove the aak leaf in the night and wash your feet, continue it for the next 40 days. Doing this will bring your blood sugar levels to normal. 
Stevia Leaves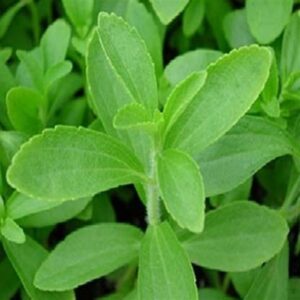 Several studies have investigated the effects of stevia on blood sugar levels. A 2016 study reported that dried stevia leaf powder significantly lowered blood sugar levels in people with diabetes, both while fasting and after eating. The researchers concluded that stevia is safe for people with diabetes to use as a substitute for sugar and other sweeteners.
Diabetics can drink tea of stevia leaves for lowering their blood sugar levels. However, people with already lower blood sugar levels should not drink this tea. 
These are the leaves that are helpful in treating diabetes. You can use these home remedies for diabetes at home and see the result yourself.
A Word From Mantra Care
If you are looking for more information on this topic or on Diabetes treatment, Online Therapy, Hypertension, PCOS treatment, Weight Loss, and Physiotherapy, please visit mantracare.org or feel free to reach out to us at +91-9711118331 or email at [email protected]. You can also download our free Android App or IOS app.
Here at Mantra Care, we have an incredibly skilled team of health care professionals and coaches who will be happy to answer any questions and provide further information so you know what's best for your unique needs.