Diet Plans For PCOS
It is very important for a person with Polycystic Ovary Syndrome (PCOS) to keep a check on his diet plans. In this article, you will find some amazing recipes to spice up your diet plans. Since our meal is divided into 3 sections, breakfast, lunch, and dinner, we have categorized the diet plans in the same order.
Breakfast Diet Plans for PCOS Patients
When you wake up in the morning, it is the best time to feed yourself the best. Once you get a habit of eating healthy in the morning, you can get rid of various health issues, like acne, skin diseases, PCOS, excessive hair growth, and many more. Here's what you need to take in the morning.
Early Morning
A glass of water + grated gooseberries + 2 pinches cinnamon
Breakfast: 
Boiled Eggs + Sprouts

Mushroom and Broccoli salad

Egg white omelet + orange juice
There are some more recipes that you would love to enjoy having in your breakfast are:
Hummus + Vegetable sticks 
First of all, you must learn how to make Hummus as the dip.
To make hummus, first, you need to put all the ingredients mentioned below in a bowl and blend them.
Chickpeas: Make sure that you use leftover chickpeas that are dried properly.
Tahini: It is an Eastern mixture of various herbs and seeds. It is primarily made up of sesame seeds.
Fresh lemon juice: It is used to give a perfect consistency to hummus.
Garlic: It adds flavor to the hummus.
Cumin seeds: Cumin seeds are added to improvise the flavor of hummus.
Olive Oil: It is added to give your dish a luxurious texture.
Now, you need to blend all these ingredients using a hand blender or an electronic one. Once you are done with this, you can dress up your dish well with coriander leaves.
Now, to make vegetable sticks, you should take the following ingredients first.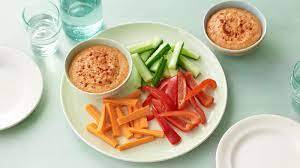 One carrot cut into sticks

One cucumber, cut into sticks

One capsicum, red cut into sticks

One capsicum, yellow cut into sticks
Peel the vegetables and cut them into bite-sized sticks. 
Now, you can use the dip that you have made earlier and have it.  
Whole grain bread egg sandwich
Whole grains are always a better option for people with PCOS. This is so because they facilitate their menstrual cycle and balance the effect of medication on the body. Here is yet another recipe that people with PCOS can try for a healthy breakfast.
Ingredients
Nonstick cooking spray

Two large eggs

2 tbsp stripped cheddar or pepper jack cheese

Two tbsp Fresh salsa

2 tbsp Sliced green onions

Two slices Whole Grain bread (toasted)

Sliced avocado (optional)
Procedure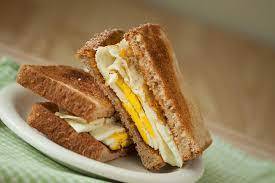 Shower medium skillet with nonstick cooking spray

Heat over medium heat. 

Add eggs to the pan. 

Cook 2 minutes on each side or until the desired degree of doneness. 

Spatter with cheese and cover and cook for 30 seconds until cheese melts. 

Transfer from pan.

Top each slice of toasted bread with one egg, salsa, green onions, and avocado slices.
Spinach Cheela
Spinach is a significant source of protein that can help you get rid of various health problems. Here is another delicious recipe that you can try if you are suffering from PCOS.
Ingredients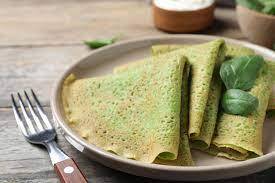 1 Sachet MAGGI Masala-e-Magic

200 gms Besan (Gram Flour)

0.5 Teaspoon Ajwain

0.25 Teaspoon Turmeric Powder

A Pinch Salt

One Cup Spinach (Chopped)

1 Teaspoon Ginger (Grated)

One Tomato (Finely Chopped)

1 Onion (Finely Chopped)

2 Tablespoons Coriander Leaves (Chopped)

1 Green Chilli

1 Cup Water

2 Tablespoons Oil
Procedure:
Add gram flour, carom seeds, turmeric powder, and salt to taste in a mixing bowl.

Then add water, stirring continuously to avoid lumps, and make a thick batter of pouring consistency. (5 min)-cooking.

Add ginger, tomatoes, onion, coriander leaves, and green chilies, and Masala-e-Magic

Mix well.

Heat a non-stick pan and brush it with a few drops of oil. On medium heat, take a spoon full of batter, pour the batter into the center, and quickly spread it across the pan to make a round Cheela/Pancake.

Drizzle oil around the edges and center and let it cook until it loosens. Flip on the other side and cook until golden brown.
These are all the three recipes that you can try if you are suffering from PCOS and want to have a delicious yet healthy breakfast.
Lunch Diet Plans for PCOS Patients
Lunch is the time when every one of us is almost working for half of the day. We are exhausted and want something healthy to rejuvenate. If you are suffering from PCOS, then here is what you need to implement in your lunch diet plans. 
Roti (bran and gram flour) + curd (no salt)

Caesar salad

Grilled chicken breast
Other amazing recipes that you can try are as follows:
Stir-Fried Garlic Broccoli
Ingredients:
One head broccoli, separated into florets

1 tbsp. vegetable oil

Two garlic cloves, finely chopped

pinch of salt

1/4 tsp. sesame oil

1/2 tbsp. Oyster sauce, or 1/2 tbsp. light soy sauce + 1/8 teaspoon 
Procedure
Bring sufficient water to a boil in a large pot.

Add a pinch of salt and 1/4 teaspoon sesame oil.

Cook broccoli for about 1 minute. 

Carry out (No need to drain)

Heat cooking oil in the wok and fry cubed garlic until aroma over a slow fire, 

Turn up the fire and push broccoli in.

Add salt and oyster sauce. 

Mix well and serve warm.
Multigrain flaxseed roti + beetroot thoran
Ingredients: 
Beetroot

Multigrain flour

Flaxseeds
To make multigrain flaxseed roti, you need to follow the given steps:
Take some flax seeds and crush them using a mixer.

Once you get the powder, you need to mix it with multigrain flour.

Now you can follow the process of making the chapati by making dough.
The next step is to make beetroot thoran. 
Ingredients: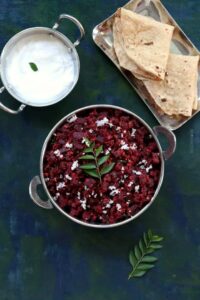 ginger-garlic paste

onions

tomatoes

coriander powder

turmeric powder

red chili powder

garam masala powder (an Indian spice blend)

green chilies

fresh cilantro

Beetroot

Cooking oil
Procedure:
Beetroots, cooking oil, and salt of course!

Peel and grate the beets. Grated beets are very easy to do in a food processor.

Prepare the masala. Fry the onions, add the ginger-garlic paste, tomatoes, powdered spices, and salt. 

Saute on medium heat until the tomatoes break down and the masala is cooked.

Add the grated beets and water and cook. Add green chilies in the last two minutes just before switching off the gas. 

Garnish with chopped cilantro.

Serve hot with naan or rice.
Beetroot's coloration clearly depicts that it helps in boosting the hemoglobin levels in the body. You can try it at your home.
Grilled Paneer Vegetable Salad
It is very simple to grill paneer. You can just drizzle some oil on and toss it on the grill. To kick it up I like to marinade my paneer with a cilantro-mint chutney or cilantro lime pesto.
Ingredients: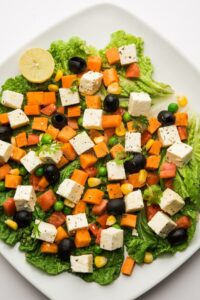 Paneer/Cottage Cheese – 200 Gram

Tricolour Capsicum – 1/4 Cup

Onion – 1 diced

Tomato – 1 diced

Cucumber – 1 diced

Coriander Leaves – a handful chopped

Pudina/Mint Leaves – a handful chopped

Chaat Masala – as per taste

Salt – as per taste

Black Pepper powder – as per taste

Black Salt – as per taste

Butter – 1 Tablespoon
Procedure:
Heat butter in a pan. 

Add paneer/cottage cheese cubes and saute it on a low to medium flame for 2 to 3 minutes. 

Sprinkle salt, chaat masala, and black pepper while sauteing. 

Transfer to a bowl.

Add diced onion, tomato, cucumber, tricolor capsicum, coriander leaves, mint leaves, chaat masala, salt, black salt, black pepper powder. Toss well.

Delicious 'Paneer Salad | Detox Weight Loss Salad' is ready to be served.
Paneer, being a milk product, is a rich source of calcium, and protein. You must add it to your favorites as it is very very delicious and nutritious.
Dinner Diet Plans for PCOS Patients
Anyone who is planning for a perfectly healthy dinner must keep it light so that no fats get deposited under the skin making it absurdly oily and inviting other problems. Here's a list of things that you can add to your dinner diet plans if you have PCOS:
Fruit salad

Cauliflower rice

Paneer bhurji
These are a few things that can be added to the dinner diet. Adding to this, there are other things also that you can easily add to your diet. 
Palak Paneer
Ingredients: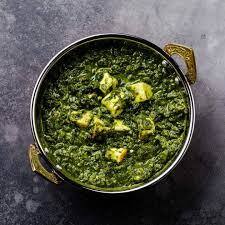 Spinach Leaves
Salt to taste
Ginger
Garlic
Chili powders
Garam masala
Cooking cream
Procedure: 
Using a colander or strainer, rinse the palak (spinach) leaves (250 grams or 0.55 pounds), very well under running water.

Boil 3 cups of water in a pan, microwave, or electric heater. Add ¼ teaspoon salt to the hot water and stir. Then add the spinach leaves to the hot water. Let the spinach leaves sit in the water for about 1 minute.

If doing this on a stove-top, be sure to remove the pan from the hot burner. 
While the water is coming to a boil, make a bowl of ice water and set it aside. Just add 8 to 10 ice cubes to 3 cups of water to get cold water.
After 1 minute, strain the spinach leaves.

Immediately transfer the palak (spinach) leaves to the bowl containing ice-cold water. This method of "shocking" the spinach helps preserve the vibrant green color of the spinach. Allow the spinach leaves to stay in the cold water for a minute to stop the cooking process.

Drain the ice-cold water and press the spinach to remove any excess moisture. Add the spinach in a blender or grinder jar with 1 inch chopped ginger, 1 to 2 garlic cloves, and 1 to 2 chili peppers (green chilies).

You can use a hand-held immersion blender to make the puree if you prefer.

Make a smooth spinach purée by blitzing the ingredients together. There should be no need to add any water to make the purée. Set the spinach purée aside.

Heat 2 tablespoons oil, ghee, or butter in a pan or Kadai (wok). In the photos below I used butter.

If using butter, melt it on a low flame making sure that it does not brown.

Add ½ teaspoon cumin seeds and let them splutter.

Then add one small to medium-sized tej patta (Indian bay leaf).

Add ⅓ cup finely chopped onions (1 small to medium-sized onion).

Sauté until the onions become golden.

Then add 1 teaspoon finely chopped garlic. Sauté till the raw aroma of garlic goes away, but stop short of browning the garlic.

Add ⅓ cup chopped tomatoes (1 small or medium-sized tomato).

Stir and sauté the tomatoes until they soften.

Once the tomatoes are softened and you see fat releasing from the sides of the mixture, then add ¼ teaspoon turmeric powder, ½ teaspoon red chili powder (or substitute cayenne pepper or paprika), and a pinch of asafoetida (hing).

Mix very well.

Add the palak (spinach) purée to the pan.

Mix well.

Add about ½ cup of water or as required. Mix and stir again.

Simmer the gravy for 6 to 7 minutes or more until the palak puree is cooked. Season with salt as required. The gravy will have thickened by now.

Stir and add ¼ to ½ teaspoon garam masala powder

Stir again and then add the paneer cubes (200 to 250 grams cottage cheese) directly to the gravy.
You can also opt to lightly pan-fry the paneer cubes in some oil until they are lightly browned and then add them to the palak gravy. In this case, you don't need to cook the paneer further.
Mix gently and switch off the heat.

Lastly, add 2 tablespoons of light cream or cooking cream, or low-fat cream.

 

Stir gently so that the cream gets uniformly incorporated into the gravy.

Serve palak paneer hot with roti, paratha, or cumin rice. You can top it with some butter or cream also while serving. Drizzle a few drops of lime or lemon juice on top along with ginger julienne. Enjoy!
Cauliflower Rice
Rice is another rich source of carbohydrates that a person with PCOS can add to his diet. See here how you can make cauliflower rice and Spice up your dinner diet plans.
Ingredients:
1 medium head Cauliflower

1 tsp olive oil

Salt and pepper to taste
Procedure:
Wash cauliflower thoroughly and dry with a towel and then remove the green part

Using a Food Processor: Firstly, separate cauliflower into 1-2 inch florets. Add 2 cups of florets or halve the way through the processor. Pulse the cauliflower till small rice-like grains are formed.

Using Grater: Firstly separate cauliflower into florets preferably bigger size so that it's easier to grate. Using the box grater with medium size holes, grate florets to resemble fine rice or couscous.

In a large skillet or pan, heat 1 tablespoon of oil, then add the cauliflower rice and saute for 2 minutes and cover with a lid and cook on medium-low heat for another 2-3 minutes or till tender. Season with salt and pepper. Serve Hot.
Egg Curry
Ingredients:
Water

Eggs

Ginger-garlic paste

Turmeric powder

Red chili powder

Cumin powder and seeds

Coriander powder

Olive oil

Chopped tomatoes

Coriander leaves

Methi seeds

Mustard seeds

Kashmiri chili

Basil leaves
Procedure:
Preparing the eggs
Boil the eggs – Take a container, fill it with water and put some eggs inside it. Wait for 10-15 minutes for it to get boiled.

Take out the boiled eggs and sprinkle ginger-garlic paste, turmeric powder, red chili, cumin powder, and coriander powder over the eggs. Make sure the spices are properly mixed with the eggs.

Saute the prepared eggs on a heated pan with oil in it.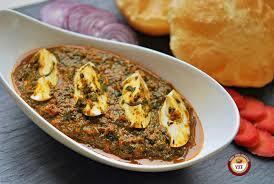 Preparing the curry
Take the pan and add cumin seeds, green chili, and chopped onion, add little oil and saute them, till they are golden brown in color

Add ginger-garlic, cumin powder, turmeric powder, salt, and red chili powder.

Mix it thoroughly, and add water to it. Let it simmer

Add finely chopped tomatoes and mix it, add some more water and stir it.

Grind the mixture properly to make the gravy aromatic. Add prepared eggs to it. Mix them properly.

Add coriander leaves and let them simmer
Preparing the Tadka
Put little oil, methi seeds, mustard seeds, Kashmiri chili, curry leaves, and saute well

Pour the mixture on the gravy along with some coriander leaves.

Serve it hot for amazing taste.
This is how you can easily add eggs to your diet.
A Word From Mantra Care
This is everything that you need to know about healthy diet plans if you are a patient of PCOS. We hope that this module has helped you throughout to see what's right and what's not, what can facilitate your treatment and whatnot.
If you are looking for more information on this topic or on Diabetes treatment, Online Therapy, Hypertension, PCOS treatment, Weight Loss, and Physiotherapy, please visit mantracare.org or feel free to reach out to us at +91-9711118331 or email at [email protected]. You can also download our free Android App or IOS app.
Here at Mantra Care, we have an incredibly skilled team of health care professionals and coaches who will be happy to answer any questions and provide further information so you know what's best for your unique needs.