What Is Ubtan?
In India, ubtan has been used for centuries as a natural healing balm. It is made from herbs and oils that are blended together to create a soothing, aromatic paste. It is the perfect way to give your skin a touch of rejuvenation. And it cares without using any chemicals or synthetics. In this blog post, we will show you how you can apply ubtan in different ways depending on what condition your skin is in!
Ubtan is an Ayurvedic body cleanser. Ayurveda is the ancient Indian science of life and it fits perfectly into this philosophy. It's includes natural ingredients like turmeric, sandalwood powder, coconut oil and gram flour (chickpea/wheat) which are blended together to create a paste that can be used in different ways depending on what skin type you have.
Benefits of Ubtan
We all desire that healthy glow and ubtan is the oldest and purest cosmetic that may help you attain it.
If you're still not convinced that making it and applying it to your face and body on a daily basis is worthwhile, have a look at these ubtan advantages. Let's take a look at a few of the reasons why ubtan is still so popular when it comes to natural skincare.
Ubtan Brings Out Natural Glow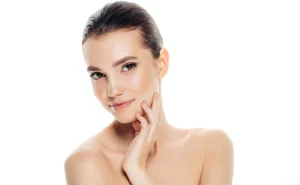 It is a mixture made from natural ingredients, and it helps you get rid of any impurities that may be on your skin. With ubtan's help, you'll soon see how smooth and radiant your face becomes after regular application.
Ubtan Cleanses Body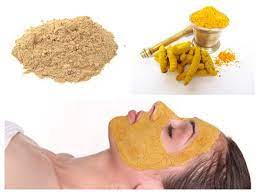 These are composed mainly of herbal products such as turmeric, sandalwood, and gram flour which are all known for their cleansing properties. Applying ubtan regularly helps to remove any dirt and other impurities from your skin.
Ubtan Is Cost-effective
ubtans don't contain harmful chemicals like those found in commercial cosmetics available today; they're made up of natural ingredients which are affordable, and ubtans can last for several months.
Ubtan Is Pure
ubtans contain natural ingredients that you're familiar with since they've been used in your home kitchen – turmeric, gram flour, rose water etc. These products don't cause any allergies or skin irritation like other commercial cosmetics do because ubtans are chemical-free.
Ubtans Come In Several Varieties
ubtan is available in many forms, and it's easy to make your own ubtan at home using readily available ingredients rather than buying commercial products whose effects you aren't sure of. The regular use of ubtan will help keep acne away because ubtans contain antibacterial properties.
Ubtan Is Easy To Use
ubtans are prepared using products you already have in your kitchen, and they can be applied easily since it comes ready-to-use although some recipes may involve kneading or heating ingredients. What's more, they don't require that extra effort of mixing, measuring and storing that you'd need with other cosmetics.
Ubtan Is Simple To Make
ubtans are easy to prepare at home using ingredients like turmeric powder, gram flour (besan), rose water, etc., but they can also be made ready-to-use by brands such as Body Merry which offers the kits.
Ubtans Are Safe 
These contain natural ingredients that aren't harmful to the skin and don't produce any side effects as other commercial products do. If you're still not convinced about ubtan's benefits, here are some traditional uses of it which may convince you further! Treating acne, reducing wrinkles and fine lines on the face as ubtan heals scars.
Other Uses of Ubtan
Treating pigmentation on the skin to reduce unevenness in skin tone because ubtans contain anti-inflammatory properties which help soothe a sunburn or a minor burn mark.

Helping keep away mosquitoes by using ubtan made from natural ingredients like citronella oil.

Keeping the hair healthy with it made from neem leaves which can make your hair look voluminous and thick when used regularly in place of conditioner since ubtans help promote hair growth by eliminating dandruff.

Ubtan also helps improve blood circulation on the scalp to keep it healthy.

Treating acne, eczema, and psoriasis with it containing neem or tea tree oil which is a natural disinfectant that helps clear blemishes by treating the underlying cause of these skin conditions.

Using ubtan for body massage before taking a shower because ubtan helps relax muscles when used regularly in place of a body lotion.

Using ubtan to treat minor skin infections because ubtans are antibacterial and antifungal products that help heal cuts, scrapes, or bruises by promoting blood circulation on the affected area which helps prevent scarring.

Ubtan helps in removing facial hair and ingrown hair:  ubtan is also effective in removing facial hair and ingrown hairs when applied to affected areas before shaving or waxing because ubtans help exfoliate the skin.

Ubtan helps treat sunburn: you can use ubtans after a day at the beach for treating sunburn by soothing irritated, inflamed, and burnt skin because ubtan contain anti-inflammatory properties.

Treating rashes and itching: ubtans also treat a range of skin conditions including allergic reactions, inflammation caused by mosquito bites, or other insect bites which could cause an irritating rash that itches badly because ubtans have soothing properties.
How To Make Ubtan At Home?
The ubtan recipe is derived from our traditional Ayurvedic texts. It's one of the simplest beauty treatments that can be made easily at home with ingredients accessible in every kitchen pantry! It is an excellent cleanser and even better exfoliator. Moreover, it helps to balance all three doshas (Vata, Pitta and Kapha).
Ubtan is a mixture of three main ingredients. You can use ubtan with any combination out of these three key components:
– Fuller's earth (Bhasm) – This ingredient makes ubtan an excellent cleanser as well as an exfoliator. It helps to balance Vata and Kapha.
– Turmeric (Haldi) – This ingredient makes ubtan an excellent skin lightening agent which is beneficial for all skin types, especially dry and sensitive skin. It helps to balance Vata and Pitta.
– Sandalwood powder or paste (Chandan) – This ingredient adds glow to the ubtan and makes it a perfect face mask. It helps to balance all three doshas (Vata, Pitta, and Kapha).
To make ubtan:
– Take equal quantities of the ingredients listed above and mix them well. Keep adding whichever ingredient you wish to use in greater amounts if required until ubtan reaches desired consistency.
– Store it in an airtight container. You can keep it for up to two weeks at room temperature and six months in refrigerator!
– To use ubtan, take a small quantity on your palm or an ubtan bowl (available with most Ayurvedic stores). Add tepid water and make a fine paste.
– Apply it evenly on your face and neck (avoiding the area around the eyes). Leave it for 15 minutes and wash with lukewarm water. It's best to follow ubtan application with an Ayurvedic herbal or fruit pack
Ayurvedic Ubtan Recipes
Though there are numerous ways to customize Ubtan to meet your skin's unique needs, the traditional Ayurvedic recipe for Ubtan calls for the following components to produce the paste.
The Perfect Moisturizer For Sensitive Skin Is Oatmeal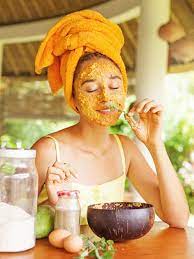 Oatmeal is a great moisturizer with skin healing, anti-inflammatory, anti-oxidant, and itch-relieving properties, making it suitable for sensitive skin. Because of their gritty texture, oats make a great scrub for delicate skin that can't take other exfoliants.
Almond – For Exfoliation That Isn't Too Abrasive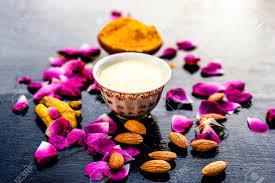 It restores the skin's lost nutrients, eliminates acne, and improves the appearance of the skin. Almond powder is prepared by soaking almonds in fresh cream or milk for a few hours before peeling off their skin and grinding them. Almonds in powdered form are used to make ubtan.
The Ultimate Remedy For Acne-Prone Skin Is Neem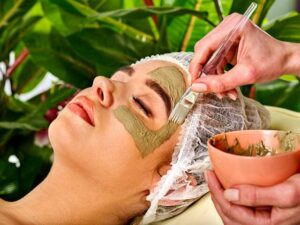 Neem leaf extract has traditionally been used in face packs for acne-prone skin. Neem powder is made from neem leaves and added to it because of its antibacterial qualities.
Sandalwood Powder (For a Natural Glow)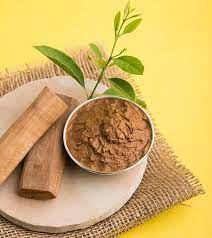 Sandalwood (Chandan) is also a natural astringent, which tightens pores and makes skin seem smoother and more luminous. It also has a pleasant aroma that soothes the senses. If you have acne, the antibacterial and antifungal qualities of sandalwood can help you reduce and prevent breakouts. However, it should not be used on active acne.
Deep Cleansing With Fennel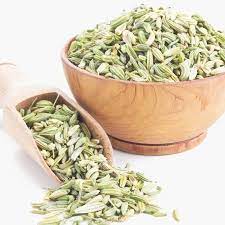 Fennel is a parsley-family wonder plant. It is popular for its cleaning qualities. It unclogs pores by removing excess oil, dead skin cells, dirt, and other debris, as well as combating wrinkles.
Fennel's skin-cleansing and toning properties are especially beneficial to people with oily skin. Fennel is also added to it to help with ingrown hair removal.
Green Gram Flour And Chickpea Flour – For Skin Nourishing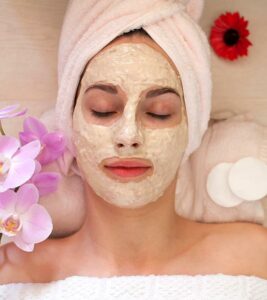 Other key components in the Ayurvedic ubtan recipe are green gram flour or chickpea flour. They are high in revitalizing vitamins including Vitamin A, B, and C, which give the skin a healthy shine. You can make ubtan paste with any or both of them. They also work as a skin-lightening agent, reducing skin pigmentation and revealing a radiant complexion.
Side Effects 
You can make ubtan at home or buy it from a store. These are good for the skin and hair. However, ubtans contain paraben which may cause cancer.
Ubtans also have other chemicals in them such as sodium hydroxide, formaldehyde, petroleum, urea, and methyl para-hydroxybenzoate. All of these chemicals are dangerous to the body if ingested or applied with a lotion. In addition, ubtans also contain lead which can cause neurological problems in children. It is highly recommended that ubtan be used as a last resort for skincare.
Conclusion
In conclusion, Ubtan is a traditional healing balm that has been used for centuries to soothe and heal skin. The ingredients in this amazing product help with acne, eczema, psoriasis, rosacea, wrinkles, and more! If you want the best natural remedy for your skin care needs then try it out today. You can find it at many health food stores or order online from our website here. We hope we were able to answer any questions about what Ubtan is and how it works; if not let us know by commenting below! Thanks again for reading – stay tuned next week when we'll be discussing another great beauty product.
A Word From MantraCare
If you are looking for more information on this topic or on Diabetes treatment, Online Therapy, Hypertension, PCOS treatment, Weight Loss, and Physiotherapy, please visit mantracare.org or feel free to reach out to us at +91-9711118331 or email at [email protected]. You can also download our free Android App or IOS app.
Here at Mantra Care, we have an incredibly skilled team of health care professionals and coaches who will be happy to answer any questions and provide further information so you know what's best for your unique needs.