Diabetic Friendly Drinks
During summers, each one of us craves some light and refreshing drinks. Well, there are a whole lot of options out there. But people suffering from diabetes fight battles as they hardly find any drink or juice suitable for their bodies. They fear the increase in blood sugar levels. Coming up with something tasty and healthy diabetic-friendly drinks at the same time could be a challenge.
Carrot Ginger Smoothie Recipe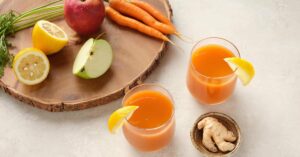 Here we come with a diabetic-friendly drink recipe for a tasty and healthy carrot ginger smoothie a diabetic patient can and must include in the diet. It does not just taste good but also holds multiple benefits for diabetic patients. Because each ingredient used in the smoothie is loaded with some health benefits or the other. The ingredients used in this recipe are easily available.
Ingredients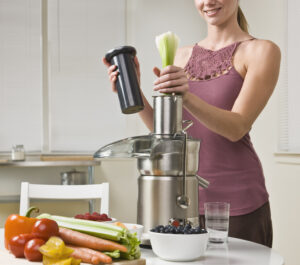 Carrots

   

Green apple

   

Cinnamon

   

Ginger

   

Lemon
Benefits of Ingredients
Carrot is rich in fiber that helps in managing blood sugar levels. Also, it is rich in nutrients and vitamins. Moreover, it is a rich source of vitamin A.
Being rich in potassium Green apple is helpful in keeping the heart healthy and managing blood pressure. And it also regulates blood sugar levels. Consuming it on an empty stomach every morning is very beneficial. It is helpful in diabetes prevention.
Coming to cinnamon, lowers the risks of heart-related diseases. Rich in antioxidants, it helps in enhancing metabolic activities. Cinnamon also helps in controlling blood sugar levels. One suffering from Type 2 diabetes should intake cinnamon on a daily basis.

Rich in minerals and vitamins, ginger also proves to be a good appetizer. It also helps in managing blood sugar levels.

Known as a rich source of vitamin C, lemon is another antioxidant and keeps the blood sugar level in control.
Preparation
     

Cut 1 or 2 carrots, and a green apple into pieces.

     

Take 2 pinches of cinnamon, 2 inches of ginger, and 1 tsp of lemon juice.

     

Place everything in a juicer jar and blend it well.
Serve it in a glass. Your low-calorie and healthy, and diabetic-friendly smoothie is ready. It will keep you fresh, healthy, and energetic. It regulates your blood sugar levels.
Detoxifying Juice Recipe
What a diabetic person should drink has always been a matter of concern. Today I'll tell you how to make a detoxifying drink for diabetics, which will be highly beneficial for your health and will also help in reversing diabetes. 
First of all, replace the high sugar fruits in your juice with vegetables, as vegetables have low glycemic value and minimum calories. So the ingredients that you need for this juice are- 
Ingredients
Beetroots

Carrot

Mint leaves

Ginger and lemon
Benefits of Ingredients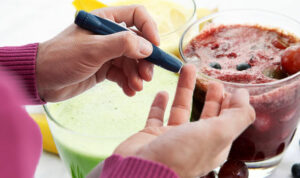 Beetroots(½)- beetroot is beneficial for everybody's health but it specifically benefits diabetics as it lowers the risks of common diabetic complications like nerve damage, and eye ailments. 
Carrot(1)- diabetics can include carrots in their daily juice. If used in moderate amounts, it could help in maintaining blood glucose levels and prevent the risk of developing eye conditions due to diabetes.
Mint leaves (half a cup) – mint leaves contain menthol which helps in lowering blood sugar levels. However, if you are taking medicines for diabetes, you should consult your doctor about including mint leaves in your daily juice as it may interfere with the medicines.
Ginger(a pinch)- ginger helps in managing blood sugar levels and diabetes by stimulating insulin production.
Lemons(½)- lemons are the superfood for diabetics as they have the essential nutrients and are low in sugar. You can use ½ lemon for the juice.
This juice helps in reducing nerve damage, improving immunity, and in lowering blood sugar which is really beneficial for diabetes management. This juice is detoxifying so it will improve your overall health as well. 
Preparation
To prepare this juice we need to cut carrots and beetroots into pieces and put these pieces into a jar. 
Add mint leaves, juice of half of the lemon, and a pinch of ginger to add some flavor to the juice and make it healthier at the same time.
Now blend all the ingredients for 3-4 minutes, and serve the juice.
You can have this tasty recipe daily to quench your thirst as well as detox your body.
A Word From Mantra Care
If you are looking for more information on this topic or on Diabetes treatment, Online Therapy, Hypertension, PCOS treatment, Weight Loss, and Physiotherapy, please visit mantracare.org or feel free to reach out to us at +91-9711118331 or email at [email protected]. You can also download our free Android App or IOS app.
Here at Mantra Care, we have an incredibly skilled team of health care professionals and coaches who will be happy to answer any questions and provide further information so you know what's best for your unique needs.