Anyone who has diabetes knows how difficult it can be to find good food that is suitable for their diet. Thankfully, there are many recipes out there for delicious diabetic soups that people with diabetes can enjoy! This article will focus on the best soup recipes for patients with diabetes so you don't have to search any longer. Let's get started!
What is a Low Carb Vegetable Soup?
There are many low-carb vegetable diabetic soups to choose from. A good place to start when making your own soup recipe is by looking at what veggies you already have in the house and whether they fit within the guidelines of a low-carbohydrate diet. For example, if you don't like tomatoes, they may not make a good addition to your soup.  However, if you have celery and onions or carrots then those two vegetables could be combined with some chicken broth for a delicious low-carbohydrate soup that is also diet-friendly.
Why Should People With Diabetes Take Soup?
While you may think of soup as a starter for your meal, it can actually be the main event. Soup is extremely filling and nutritious, especially when made with vegetable broth instead of cream-based stocks. Making sure to take in enough protein every day will also help promote longer periods between blood sugar spikes which make meal time important!
Best Ingredients To Use In Diabetic Soups
There are many options for ingredients to use in diabetic soups. To maximize the amount of energy you get from your meal, make sure there is some protein incorporated into it. You can also choose vegetables that have high water content like zucchini and cucumber which will keep you hydrated while adding fiber!
Cereals
Oatmeal
Grits/Polenta
Rice
Spelt Pasta and Spelt Grain:  spaghetti, macaroni, fusilli bucati , lasagna noodles. They all work well with diabetic soups because they are easily digestible and don't cause blood sugar spikes.
Whole wheat pasta is also a good option to add some extra fiber into your bowl!
Lentils: Lentil soup is always great for keeping you full throughout the day without causing too many sharp rises in blood sugar levels after eating it.
You can buy pre-made mixes of dried or canned legumes such as chickpeas, black beans, and white kidney beans which will make cooking easier if you don't have time to make them from scratch!
Best Vegetables To Use In Diabetic Soups
Cabbage
Carrots- carrots not only taste great but they are a good source of vitamin A, which can be beneficial for those with diabetes. Carrots also have high water content so you won't need to drink as much extra water throughout the day after eating some soup made out of it.
Peas and leeks can help lower blood sugar levels almost immediately because their sugars enter the bloodstream slowly over time rather than all at once as other foods might do. Another vegetable that's perfect is green beans. They contain plenty of fiber and protein so your energy will stay stable even hours later without any major changes in blood glucose level readings!
Mushrooms – this ingredient may sound a little strange but it can be a great addition to diabetic soup. Mushrooms contain antioxidants that help lower blood pressure levels, which is extremely important for people with diabetes because they are more likely to suffer from heart disease or high cholesterol issues before anyone else!
Onions and garlic also have the same benefits as mushrooms so make sure you throw them into your next bowl of soup if you want a strong flavor profile in there.
What Are Some of the Best Soup Recipes for People With Diabetes?
There are many delicious diabetic soups out there, but here is a list of some top-rated soup recipes that people with diabetes can enjoy:
Vegetarian Miso Soup (Low Fat and High Protein)
A great choice if you're looking to get your protein in early on. This soup can also be made in bulk and frozen for a quick reheat!
Ingredients:
100g Dried Wakame seaweed soaked in cold water for 15 minutes, then drained and rinsed
500ml Vegetable stock
150g Firm Tofu cut into small cubes or prawns if you prefer them instead of the tofu.
Instructions:
Bring the vegetable stock to a simmer and add all other ingredients except tofu/prawns, stirring well.
Cover with lid and simmer gently for about two minutes until wakame is softened.
Add tofu/prawns and cook for another minute or so until heated through.
Serve immediately as the soup will separate as it stands (the oil from the sesame seed paste may float on the surface).
Slow Cooker Chicken Chili (High Protein)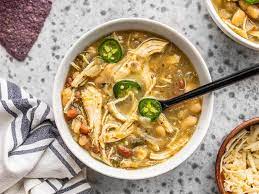 This is another great option that you can freeze to keep on hand when you're feeling low on energy. It's got plenty of vegetables, protein, and fiber to help you feel full and satisfied.
Ingredients:
Chicken
16 oz Pre-cooked shredded or diced chicken
32 ounces low sodium organic vegetable broth
14.75 ounce no salt added fire-roasted tomatoes
16 ounces water
Instructions:
Put all ingredients into the slow cooker on high heat for about three hours until thoroughly warm.
Add seasonings as desired such as cumin, coriander, oregano, etc.
Creamy Tomato Basil Soup (High in Vitamin C)
This healthy tomato basil soup can be easily adjusted to fit your specific nutritional needs as a diabetic patient because it doesn't have any added sugars.
Ingredients: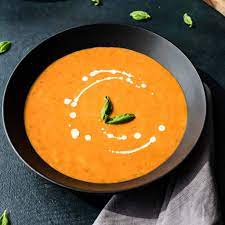 50g onion, chopped
175g carrots, peeled and roughly chopped
400ml can of diced tomatoes or whole peeled tomatoes in juice (BPA free)
30ml tomato paste mixed with 100ml water if using canned tomatoes
200 ml boiling water if using fresh tomatoes
400ml can of unsweetened coconut milk
50g basil leaves, roughly chopped
Salt and pepper to taste
Instructions:
Heat oil in a large saucepan over medium heat.
Add onion and cook for about five minutes or until softened.
Stir occasionally so onions don't stick to the pan.
Add carrots, tomatoes, and tomato paste mixture or water if using fresh tomatoes.
Increase heat until boiling then reduce to low-medium heat for 15 minutes covered with a lid so that all flavors can infuse.
Serve soup in individual bowls sprinkled with basil leaves and add salt and pepper to taste.
Slow Cooker Lentil Soup (High Fiber)
Chickpeas, lentils, onions, carrots- this soup has it all! The recipe makes a large batch which is great for making in advance if you're short on time. Plus the high protein content will keep your energy up all day long!
Ingredients: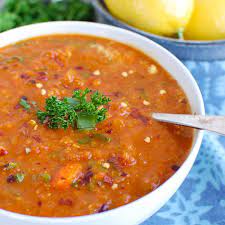 Olive oil
Bay leafs
Garlic cloves (minced)
Carrots
Onion
Celery stalks
Lentils, dried and rinsed thoroughly in a colander.
Canned tomatoes
Chicken stock (low sodium)
Ground cumin powder
Garlic cloves (minced)
Salt & pepper to taste
Instructions:
Lightly coat the bottom of your slow cooker with olive oil so that nothing sticks to it later on.
Add in carrots, onion, celery stalks, and garlic cloves.
Cook until onions are translucent- approximately five minutes or so depending on how much time you have!
You can always add them at a different point if you're short on time but leaving them in for as long as possible will help bring out their flavor even more which is great when cooking lentils because they absorb flavors well!
Make sure to stir occasionally while sautéing these ingredients just to avoid anything sticking or burning during this process.
Once all vegetables are cooked through (you'll be able to tell by smell), pour chicken stock and canned tomatoes into the pot.
Add in lentils, ground cumin powder, salt & pepper to taste- this is a good time to check the consistency of your soup as well! If it's too thick for your liking feel free to add more chicken stock or water depending on how much liquid there already was from the vegetables that were cooked before adding them together.
Also, be sure not to overfill your slow cooker.
Cook on low for about four to six hours.
Skinny Minnie's Vegetable Beef Soup (Low Fat)
Take comfort food to a whole new level with this vegetable beef soup that still leaves room for healthy carbs like green beans or cornbread muffins. This one can also be made in bulk and frozen ahead of time so it's perfect when you need something quick but nutritious.
Ingredients: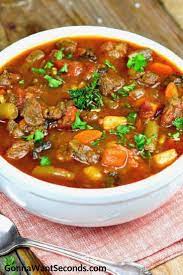 ¼ cup flour, whole wheat or gluten-free
½ t. salt (optional)
14 oz can of diced tomatoes with juice (or two large fresh tomatoes, chopped)
32 oz beef broth
16 oz bag frozen mixed vegetables (carrots, green beans, corn), thawed*  (you could also use fresh veggies like zucchini and cucumber if you want to increase water content in the soup – just make sure they are high water content vegetables!)
Instructions:
In a large pot, heat the oil over medium-high heat. Add the beef and cook until it is no longer pink.
Let it cook for about five minutes.
Add onion and garlic to the pan; cook for another minute or so until onions are translucent.
Stir in flour then add tomatoes with juice, broth, and spices (basil, oregano).
Reduce heat to low and simmer at least one hour but up to three hours before adding vegetables if you have time! Otherwise, just throw them right in when you're ready!
Once veggies are added bring the soup back to a boil, reduce heat again to maintain a gentle simmer – about 15-20 min more depending on how tender your veggies already were from being frozen/thawed.
Serve with a sprinkle of Parmesan cheese and chopped parsley.
Slow Cooker Chicken Tortilla Soup (High Protein)
This soup is easy to whip up on a weeknight, but it's also delicious enough for company. You can even make this one in your Crock-Pot slow cooker so you don't have to be stuck at home all day!
Ingredients: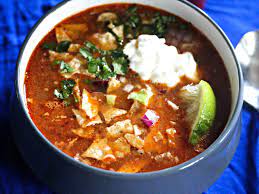 ½ tsp. cumin
¼ tsp. chili powder
¼ tsp. salt, divided
16 oz boneless skinless chicken breasts (about two large) cut into chunks or strips if preferred
15 oz can black beans drained and rinsed well before adding to soup
14.75 oz can petite diced tomatoes with green chilies low sodium variety is best for diabetics/low carb count!
32 oz reduced-sodium chicken broth
12 ounces frozen corn kernels,
¼ cup chopped fresh cilantro leaves (optional) for topping soup prior to serving
Directions:
In a small bowl add in spices and salt, stirring well; set aside.
Next, take out chicken breast chunks or strips and coat with spice mixture evenly making sure each piece is coated on all sides before adding them into the crockpot.
Pour in black beans next then a can of diced tomatoes including juice from the container as well as canned corn kernels.
Place lid on crockpot and cook on low for about four hours or until chicken is cooked through completely letting out a nice juicy tender texture as well as no longer pink in the center from exposure to heat/warmth throughout the cooking process.
Next add fresh cilantro leaves over top of the soup prior to serving if you desire a stronger flavor at this point.
Serve immediately, enjoy with additional toppings such as tortilla strips, sour cream, shredded cheese, avocado slices, etc. depending on your preference just be sure to read food labels carefully when choosing what types of "toppings" you will use because many times these items can be higher in carbs and fat which you don't want to consume too much of for this particular meal.
Skinny Minnie's Low Carb "Fried" Ice Cream (Low Sugar and High Fiber)
The name says it all with this recipe! It's got healthy fats from the avocado along with fiber from the shredded coconut which makes a great substitute for traditional ice cream. Top off with some fresh berries or chocolate syrup if you want something sweet!
Ingredients: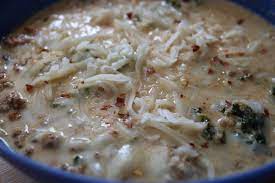 ½ ripe avocado
¼ cup unsweetened almond milk or coconut milk
¼ teaspoon vanilla extract
Pinch of salt and Stevia to taste (optional)
Instructions:
Blend all ingredients in a food processor until smooth.
Pour into a freezer-safe container, cover with parchment paper on the surface, and freeze for one hour or more before serving.
Top with berries or chocolate syrup if desired!
Diabetic soups are not only delicious but they're also great for those who have diabetes because it can be hard sometimes to resist snacking when you get low blood sugar levels during the day.
Chunky Vegetable Soup (High Fiber)
This is a great option if you're trying to up your fiber intake. Not only is it full of vegetables but the protein in this soup will help keep blood sugar levels stable throughout the day!
Ingredients: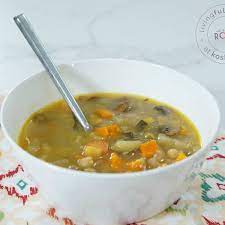 A bag of frozen vegetables (We used peas, carrots, corn, and green beans)
One can of diced tomatoes
Two cups vegetable broth/stock
Diced onion
Garlic powder
Italian seasoning or basil leaves
Instructions:
Put everything into the pot in that order.
Cook on low for about an hour stirring occasionally.
You can also add some quinoa if you want to boost your fiber intake even more!
Quinoa has a healthy dose of protein so it's great at keeping energy levels stable throughout the day.
Finish off with pepper flakes for added spice if desired.
This is perfect when paired with fresh breadsticks too!
Throw them right in there along with all your other ingredients for an even healthier meal.
You'll be surprised at how much you can eat without any guilt of your blood sugar levels going up and down the entire day!
Minty Vegetables and Oats Soup
Ingredients:
Oats (150 grams)
Chopped onion, grated carrots, and celery stalks, crushed garlic cloves, olive oil.
Boiling water or vegetable stock cubes dissolved in boiling water to cover the vegetables.
Mint leaves for decoration.
Directions: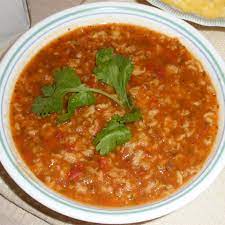 Put chopped onions into a pan with some olive oil until they are lightly golden browned.
Add grated carrots and cook them together for about five minutes over medium heat stirring occasionally so that the veg doesn't stick to the bottom of your pan or burn!
Then you can add finely chopped celery stalk, crushed garlic clove which is best if it's not too big because you want all the flavors to mix together!
Add the oats, stir for about a minute then add boiling water or vegetable stock. Boil until your vegetables are soft enough to puree into soup with an immersion blender or food processor.
Top it off with mint leaves and you're all done! This is one of many tasty diabetic soups that's simple to make but packed full of nutrients so you can get back on track after a long day out in the fresh air.
Carrot and Coriander Soup
Ingredients:
500g carrots, peeled and chopped roughly
100ml apple juice (optional)
Salt and Pepper to taste
Method:
Put all the vegetables in a large pan with half of the water or stock.
Cook for 20 minutes or until tender, then add remaining ingredients and cook for an additional ten minutes.
Blend well before serving warm.
Enjoy!
If you prefer a smooth soup, blend all ingredients together after cooking time is over instead of just cooking it longer.
What Should Not be Included in Soups For Diabetes?
Soups should not include processed sugars, refined carbohydrates, and high glycemic index foods. The following types of carbs need to be limited: pasta, bread, and rice. Soups can still contain these ingredients but in moderation. Diabetic soups should contain a large number of vegetables and lean meats. Vegetables are naturally low carb, high fiber foods that can help stabilize blood sugar levels throughout the day. Lean meat is an excellent source of protein which contains very few carbohydrates in comparison to proteins from other sources such as bread or pasta.
Conclusion
Considering the challenges that people with diabetes face, it is important to provide them with a variety of dietary options. Diabetes can cause complications such as kidney failure and nerve damage which make eating certain foods difficult or even dangerous for those who suffer from this disease. These diabetic soup recipes are perfect because they offer many nutritional benefits while being easy to prepare. You'll find diabetic soups made from vegetables, beans, grains, fish, and poultry so there should be something satisfying no matter what your tastes may prefer!
A Word From MantraCare
If you are looking for more information on this topic or on Diabetes treatment, Online Therapy, Hypertension, PCOS treatment, Weight Loss, and Physiotherapy, please visit mantracare.org or feel free to reach out to us at +91-9711118331 or email at [email protected]. You can also download our free Android App or IOS app.
Here at Mantra Care, we have an incredibly skilled team of health care professionals and coaches who will be happy to answer any questions and provide further information so you know what's best for your unique needs.