Online therapy in Malaysia | Online Counseling by best therapists
Improve your mental wellbeing whenever and wherever you want
Video calls or chat sessions with the best therapists
Affordable online therapy in Malaysia .
Begin Therapy
Confidential consultation with top therapists
"*" indicates required fields
A 'Better' way to Mental Wellbeing
By world-renowned experts, MantraCare offers affordable and successful online therapy in Malaysia. Experience our app-based or online treatment to enhance your mental health. At MantraCare, you may get the greatest online counseling, e-therapy, or distance therapy available.
Broad Range of therapies
Our therapists in Malaysia are here to assist you with any mental health problem, whether it's anxiety, sadness, marital difficulties, adolescent therapy, LGBTQ counseling, or any other condition. Our treatments are developed to your specific requirements and circumstances.
Affordable & Effective
We think that therapies should be focused more on "Need" rather than "ability to pay." Online therapy is 90% cheaper than face-to-face treatment. Online counseling in Malaysia costs only $10.
Proactive, Continuous Care
Our psychologists are entirely virtual and provide assistance, whenever and wherever patients want it. We help you maintain well-being by using technology to offer self-care resources, mental healing films, and discussion groups in a proactive manner.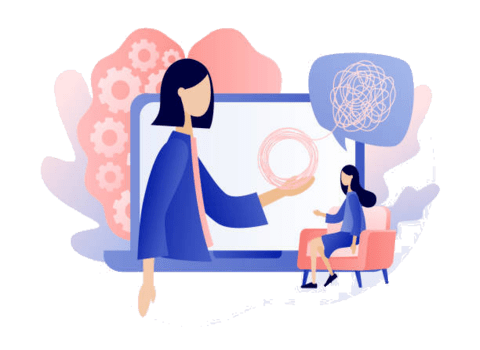 Malaysia's best online therapy clinic in your pocket
On a near real-time basis, our psychologists and counselors are accessible in every part of Malaysia through a simple mobile app. Expert online therapy is possible using Cognitive evaluations, AI, and technology.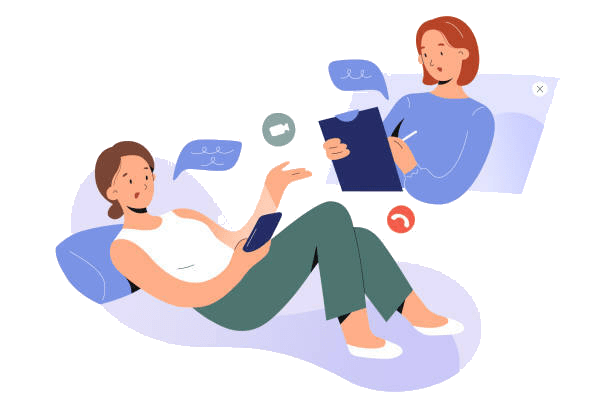 How it works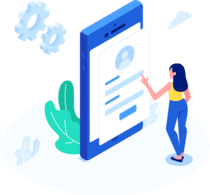 Signup for online counseling
Just complete a simple 5-minute online assessment form and enroll in the therapy program in Malaysia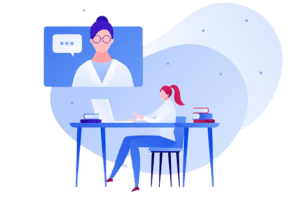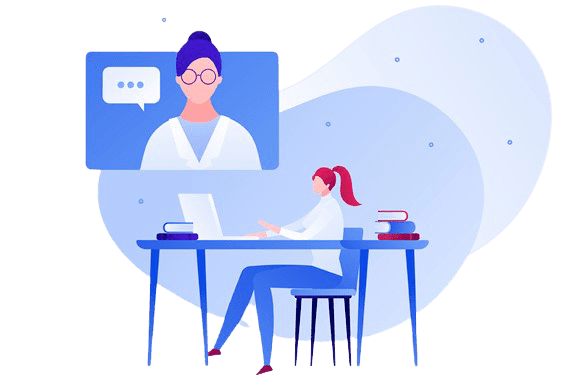 Meet your therapist
We'll match you with a Mantra psychologist for Malaysia available 24/7 to you via call or chat.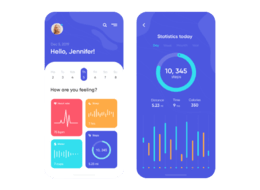 Start Therapy
Video call or chat with your therapist in Malaysia to bring back happiness in your life.
All about Online Therapy
Teletherapy, also known as internet therapy, involves psychotherapy or mental healing over the internet. Video conversations, emails, texts, and online conversation may all be used to provide therapy.
Online therapy has several benefits over traditional face-to-face therapy techniques. This includes simplicity, accessibility, and anonymity. Online treatment may be accessed from anywhere at any time.
Who is Online Therapist?
An internet therapist is like a real-world psychologist, counselor, or psychotherapist. He goes through the same training and education as those in Malaysia's authorities have established. The only distinction is that he offers therapy over the internet rather than in person.
Meet the Best Online Therapist in Malaysia
Mantra Care's therapists in Malaysia are here to assist you in finding answers for your difficulties. According to studies, both online and physical therapy are equally as efficient. There are multiple benefits of joining MantraCare:

Affordable
MantraCare's online therapy in 90% less expensive than face-to-face therapy in Malaysia. Online counseling starts at just $10.

Multiple communication modes
You get the freedom to choose a mode of therapy: Text-based, Voice messages, or Video Calls, based on your preference

Your Therapy, Your Terms
Choose your therapist. We also allow you to set the time, location, and initial direction of therapy.

Expert care anywhere, anytime
MantraCare is 100% online—no waiting rooms, just on-demand care
Top Therapists in Malaysia
10,000+ Happy Customers From Malaysia & the world
Our Patients Are Redefining Success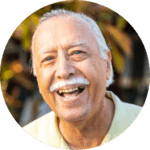 "My experience with Mantra care in Malaysia was excellent. Over just a few sessions, I got familiar with the application and was able to use all their functions and features that are oriented as per my customized needs. I would definitely recommend all my friends to be here and motivate themselves about life and its own ways to rejuvenate oneself from the inside. My experience was superb, as, from a bad sleeper, I was having a sound sleep these days."
Daniel,
6 Months on MantraCare
Frequently Asked Questions
Online therapy is a type of psychotherapy that can be done on your laptop or phone. Online therapy is similar to face-to-face counseling, with the exception that you may get your consulting from the comfort of your own home. All you need is a computer or mobile phone, a good internet connection, and a quiet private area to begin.
What does online therapy treat?
In Malaysia, online counselling can be an effective treatment for a variety of mental health disorders. Treatment for Depression, Stress, Anxiety Disorders, Relationship Issues, Trauma, Grief, Loss, Work or Office Issues, Mental Health Issues, Couples Issues, Marriage Issues, LGBTQ Issues, Anger Issues, Dementia/ Alzheimer's & Panic Attacks are all included.
What are the common types of online therapy?
The following are a few of the most common types of therapy:
CBT (Cognitive Behavioral Therapy): The therapist challenges your inaccurate beliefs about yourself and the world. He tries to cure habits or illnesses such as despair. CBT is a type of psychotherapy that focuses on changing undesirable behaviors or treating mental illnesses such as phobias and depression.
Client-Centered Therapy: The client takes the lead in this technique. The session's course is determined by the client. Therapist empathy and development of self-esteem and problem-solving skills are high.
Dialectical Behavior Therapy (DBT): The therapist attempts to teach behavioral skills (mindfulness, interpersonal effectiveness, and emotion management) in order to enhance motivation. DBT is frequently utilized for mental health concerns including eating disorders, PTSD, personality disorder, and self-injurious ideas.
Existential Therapy: This approach focuses on the development of one's potential in the face of adversity. Existential therapy helps patients confront dark and unpleasant realities about life and death.
This therapy focuses the client on the current moment. It generally entails role play to address issues from the client's past.
What are the benefits of therapy?
Therapy is beneficial to everyone, not just those who have mental health issues. Some of the most successful people in history used therapy as a source of inspiration and motivation. Therapy can aid in the treatment of mental health problems such as depression, anxiety, body image concerns, and even addiction. A therapist will help to:
Understand your feelings
Get immediate support (if required)
Plan your future
Relieve stress, anxiety or pressure
A therapist, often known as a psychologist, is a trained mental health professional who assists clients in improving their mental health. In Malaysia, therapists typically assist clients, whether through in-person or online counselling. They assist their clients in coping with any issues they are facing and in letting go of the past. They assist Malaysian clientele in living a better present and future. Better coping skills are also taught by therapists. Therapist job includes:
Listen with empathy and understanding
Guide clients through stressors and anxieties
Analyse past and present events in client's life
Comfort clients
Provide a third-party unbiased opinion
Be empathetic and teach emotional, cognitive, and communication skills
Do therapist prescribe medicines?
We do not give out medication; rather, our psychologists or psychotherapists refer clients to psychiatrists in Malaysia when necessary.
How much does online therapy cost?
We feel that therapies should be focused more on "need" than "ability to pay." We begin our counseling session at $10/session to make therapy more available. In Malaysia, our sessions are 90% less expensive than traditional in-person therapy. This makes us one of the most affordable ways to obtain online therapy in Malaysia.
Yet, if our therapy is out of our price range, you may obtain a straight discount from the therapist. The majority of therapists are not in it for the money. Our therapist will evaluate your request and give you a discount depending on your situation and requirement.
The length of the counselling session is determined by the client's unique circumstances, requirements, and obstacles. The number of sessions that are recommended vary depending on the problem and type of treatment. This is something you can talk about with a therapist at your first consultation. With 10-15 sessions, many individuals with depression, anxiety, and stress in Malaysia report feeling better in as little as 2-3 months. A session could last anywhere from 30 minutes and two hours.
Is online counselling better than traditional face to face counselling?
In Malaysia, online therapy has been found to be just as beneficial as face-to-face therapy. There are several reasons why online counseling is superior:
Most importantly, online therapy is frequently less expensive in Malaysia than in-person therapy. There are no expenses connected with living space, electricity bills, or anything else like that. As a result of this, the therapists are able to pass on the savings to you.
Comfort: There's no need to travel to a psychologist, sit on the same sofa, and talk with the same therapist. Online therapy does not require that you leave your home or workplace. In your jammies, talk to your counselor on your bed!
Multiple communication modes:
Text-based therapy gives you the freedom to chat with therapists throughout the day or week. Your therapist is always quick to respond. For the socially anxious, who which to avoid face to face conversation, this is the best option.
Voices messages can be used if you wish to vent out a moment or have a lot to get off your chest. Voice messaging provides the comfort of hearing a therapist's voice without having to schedule a lengthy session.
Video call sessions can be used if you want an experience seeing a therapist's reaction and having them react to your body language. You can choose to have that quality face-to-face time via our app with 100% security.
Your Therapy, Your Terms: Most of us in Malaysia live hectic, unbalanced lives wherein scheduling a traditional therapy session becomes prohibitive. Online therapy allows you to set the time, location, and initial direction of the therapeutic relationship. It's freedom that puts you, the client seeking mental health solutions, first.
How Online Therapy Matches You with the Right Therapist
In the Malaysia, you can access family mental health services through online therapy. While we all know that internet therapy is accessible from anywhere at any time, there are some limits to this. Local therapists may not be able to handle your specific and unique needs.
At MantraCare, our algorithms evaluate your needs and personality to determine the best therapist for you. If after a few online therapy sessions, you discover that your therapist isn't a good match for you, you may simply change therapists. Switching therapists at MantraCare is as simple as clicking a button.
Online therapy reviews in Malaysia
In Malaysia, MantraCare has thousands of positive consumer comments. The majority of our clients give us a high rating for our skilled therapists, effective matching system, and user-friendly app that allows you to talk with your therapist and receive follow-ups.
How secure is online counselling?
MantraCare offers a highly secure form of therapy. We don't sell your information to third parties. Your whole therapy session with your counselor is secured by end-to-end encryption. So you can feel confident and open up to your therapist in Malaysia.
Is MantraCare Online Therapy program free?
We provide some services for free, such as self-care tools, app-based tracking, and online self-help blogs. However, we charge a little fee for face-to-face counselling sessions to offset the costs. In any event, our sessions in Malaysia are 90% less expensive than in-person counselling. We offer the most economical online counselling sessions in Malaysia.