Sleep apnea is a potentially life-threatening condition that affects millions of people worldwide. If you are one of those people, it's important to know more about the disorder. And how you can prevent it from harming your health. This article will cover sleep apnea symptoms, diagnosis, studies, treatment options, and prevention methods for this common but serious sleep disorder.
Sleep Apnea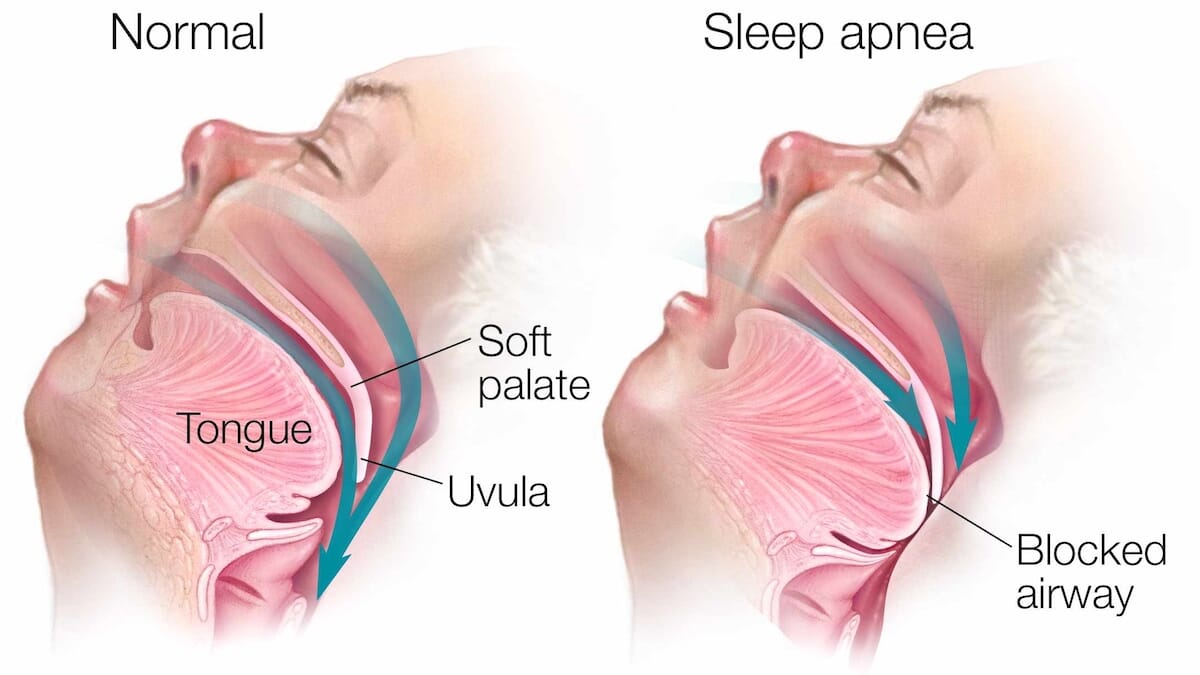 Concept
Sleep apnea is a condition in which the person stops breathing while they are asleep. The sufferer will snore loudly during this time. But when they wake up after several seconds or minutes of not breathing, they will be unaware that it happened. This can happen hundreds of times each night without the person knowing it.
Cause
A person with sleep apnea will have one or more pauses in their breathing or take shallow breaths while they are asleep. This is because the muscles and tissues in their throat relax during sleep, blocking the airway. This makes it difficult for them to breathe or take deep breaths. Also, they will wake up feeling tired even after a full night's sleep.
Types Of Sleep Apnea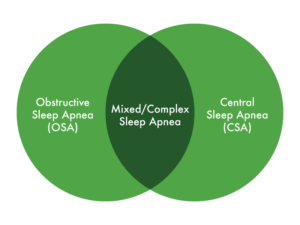 A person with sleep apnea aka obstructive sleep apnea (OSA) suffers from pauses in breathing during the night. It is typically on account of obstruction at their throat passage.
There are two main types of OSA:
Central Sleep Apnea (CSA) and
Complex Sleep Apnea Syndrome
Central Sleep Apnea
Central Sleep Apnea is when the brain fails to send signals that control breathing. This means that the person may breathe irregularly, taking short breaths before stopping together for seconds or minutes at a time. The muscles in their chest will contract quickly during these pauses to keep the airway open.
Complex Sleep Apnea Syndrome
Complex Sleep Apnea Syndrome is when there are multiple pauses in breathing during sleep, which last longer than 20 seconds each time. This is caused by a combination of causes that may include OSA and upper airway resistance syndrome (UARS). UARS occurs due to an obstruction at their throat passage or the airway opening, which causes breathing problems.
NOTE: People with Complex Sleep Apnea Syndrome have a combination of the other types. They may start with central sleep apnea but then their condition can change to obstructive later on during the night. This makes it very hard for them to get enough oxygen into their body and muscles, which will tire easily as a result.
Symptoms Of Sleep Apnea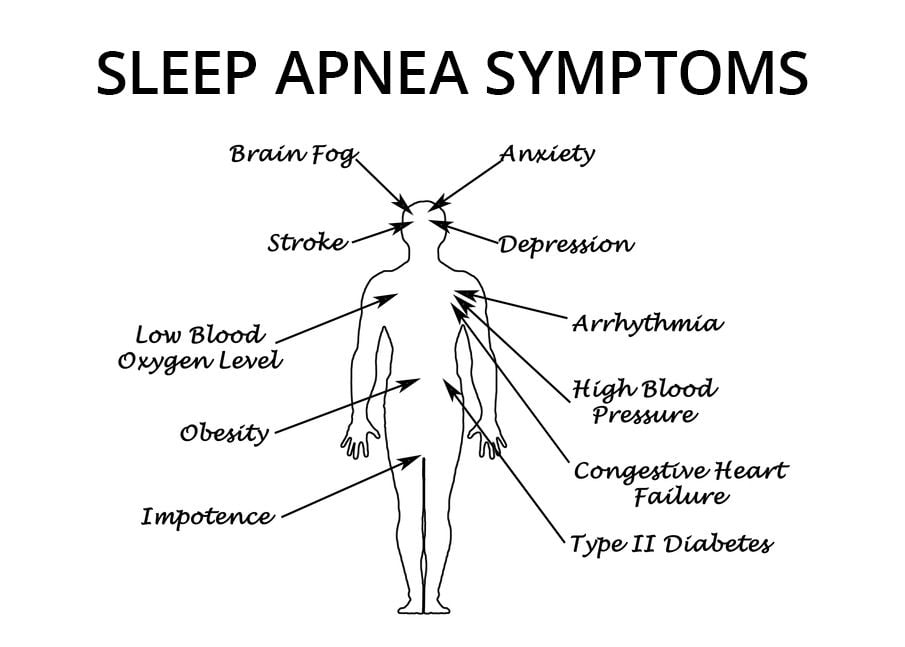 If you have been diagnosed with sleep apnea, make sure that your doctor is fully aware of all of the possible symptoms that you may be experiencing. People with sleep apnea can experience different symptoms such as:
Snoring: It is loud and will be interrupted by long pauses in breathing or shallow breaths during sleep.
Excessive Daytime Sleepiness (EDS): They may fall asleep at work while driving when watching TV, etc. without being aware of it until they wake up.
Morning Headaches: These are due to being woken up too suddenly. It can cause a headache.
Irritability or Moodiness: Since they will not get enough sleep and be tired all the time it may affect their moods.
Memory Loss: People with sleep apnea forget more as a result of a lack of quality deep restorative sleep over an extended period. This can affect their memory and learning ability.
Choking or gasping for air during sleep: They may constantly be woken up by a feeling that their throat is blocked. It will cause them to gasp and choke in the middle of the night. This can leave them very tired even after getting a full night's sleep.
NOTE: People with sleep apnea may also suffer from depression due to a lack of quality restorative deep sleepover time, which can make them feel miserable all the time even when they are awake.
Diagnosis & Tests Of Sleep Apnea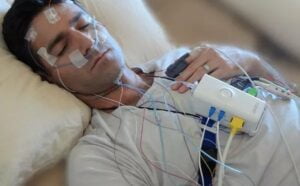 Although sleep apnea is typically diagnosed based on the symptoms listed above. However, it's important to be tested for this disorder.
It can also indicate other health conditions that require immediate attention, and should not be ignored.
There are numerous tests available for adults with suspected sleep apnea but these are some of the most common:
Sleep Study
The gold standard for diagnosing sleep apnea. During a sleep study, electrodes and other sensors will be placed on your head and skin to track brain waves, muscle activity, and oxygen levels as you sleep.
Polysomnography
This is similar to a standard overnight stay in the hospital where several tests are performed throughout the night including:
Electroencephalogram (EEG),
Electrooculography (EOG),
Electromyography,
Airflow Monitoring and
Endotracheal Tube Recording
Actigraphy
This is a wristwatch or similar device. It analyzes sleep patterns by measuring movements of the body to determine if you are asleep or awake. As this test does not require electrodes, it's one of the most comfortable sleep tests.
Portable Sleep Apnea Monitor
This is a device that analyzes your breathing and heart rate while you're sleeping at home or on the go. It may be recommended if you have had an overnight stay in the hospital within the past year, are pregnant, or would like to spend more time at home.
Home Sleep Apnea Test
This is a good option for those who are uncomfortable in the lab or would like to spend more time at home. A device similar to an actigraphy monitor will track your sleep and breathing, supplying data via a USB cord. If you can review it with your doctor. It may not be as accurate as an overnight sleep study, however. Ask your doctor if this test is right for you.
NOTE: A common misconception is that sleep apnea only affects overweight individuals; however, the condition can affect anyone regardless of their weight.
Sleep Apnea And UARS
Upper airway resistance syndrome (UARS) is a condition that results from an obstructed or abnormally functioning throat, tonsils, or similar upper respiratory system structures. It's often diagnosed when other conditions including sleep apnea have already been ruled out. Symptoms may include:
Loud snoring
Frequent, unrefreshing sleep
Morning headache or dry mouth
Loud gasps or snorts while sleeping
Wake up feeling tired and unrested even though you may have had a full night's rest
Other medical conditions such as heart disease and type II diabetes can occur with UARS
Treatment Options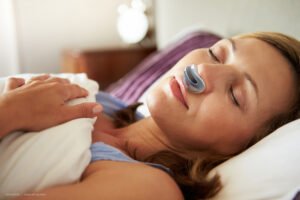 If you are diagnosed with sleep apnea, treatments can vary depending on:
Severity of your condition
Difficulty in breathing during your slumber time.
Although there is no cure for sleep apnea, there are several treatment options available such as:
Positive Airway Pressure (PAP) Therapy or Continuous Positive Airway Pressure (CPAP)
These treatments offer the most effective long-term solution to improving symptoms of sleep apnea and other upper airway resistance disorders. The mask is worn over your nose at night while you sleep and it regulates air pressure to keep your throat open as you sleep.
Surgery
Some patients may be good candidates for surgery such as uvula-palate-pharyngoplasty (UPPP). This is a surgical procedure that removes excess tissue from the back of the throat which reduces symptoms and increases airflow at night. A doctor will give you specific information about this treatment option.
Dental devices
The use of such devices helps obstructive sleep apnea patients open their airways during the night. Talk with your doctor about these options if you have a confirmed diagnosis of sleep apnea or other upper respiratory system disorder which affects breathing and disrupts restful sleep.
Prevention
The best way to prevent sleep apnea is:
By maintaining a healthy weight
Avoiding things such as:
These can cause the muscles in their throat or airway passage to become more relaxed during sleep.
Caution & Precaution
If you have been diagnosed as having OSA, it is best to take precautions so that this does not happen again in the future. Here, we have listed a set of cautions to lower the risk of complication as well as precautions to minimize its risk of incidence:
Lose Weight: If you are overweight or obese because it heavy directly contributes to further breathing problems when sleeping at night.
Limited Travelling: People who suffer from OSA are advised not to drive long distances, as they can fall asleep at the wheel.
Sleeping Habits: People who have sleep apnea are advised to avoid sleeping on their back, or their stomachs because it makes breathing difficult during sleep.
Avoid Sedatives: Avoid taking sedatives before going to bed. This is because sedatives will relax the muscles in your throat making it more difficult for breathing air.
Education: People who have sleep apnea are advised to be educated about their condition. So that they know how best to avoid any further complications or risks of incidence.
Medications: Avoid taking sleeping pills before going to bed. As these can make you drowsy and can cause you to stop breathing.
Healthy Choices: People who have sleep apnea are advised to avoid consuming too much alcohol or smoking. As they both lead to breathing difficulties.
No Noon Naps: It is recommended for patients with OSA not to take naps during the day, and instead. Get a full night of sound sleep to prevent further complications from arising due to lack of restful sleep.
NOTE: If you suffer from this condition, it is ideal to speak with your doctor for more information about possible treatment options. Such as surgery or other medical interventions that can help you with your sleep apnea.
Risks & Complications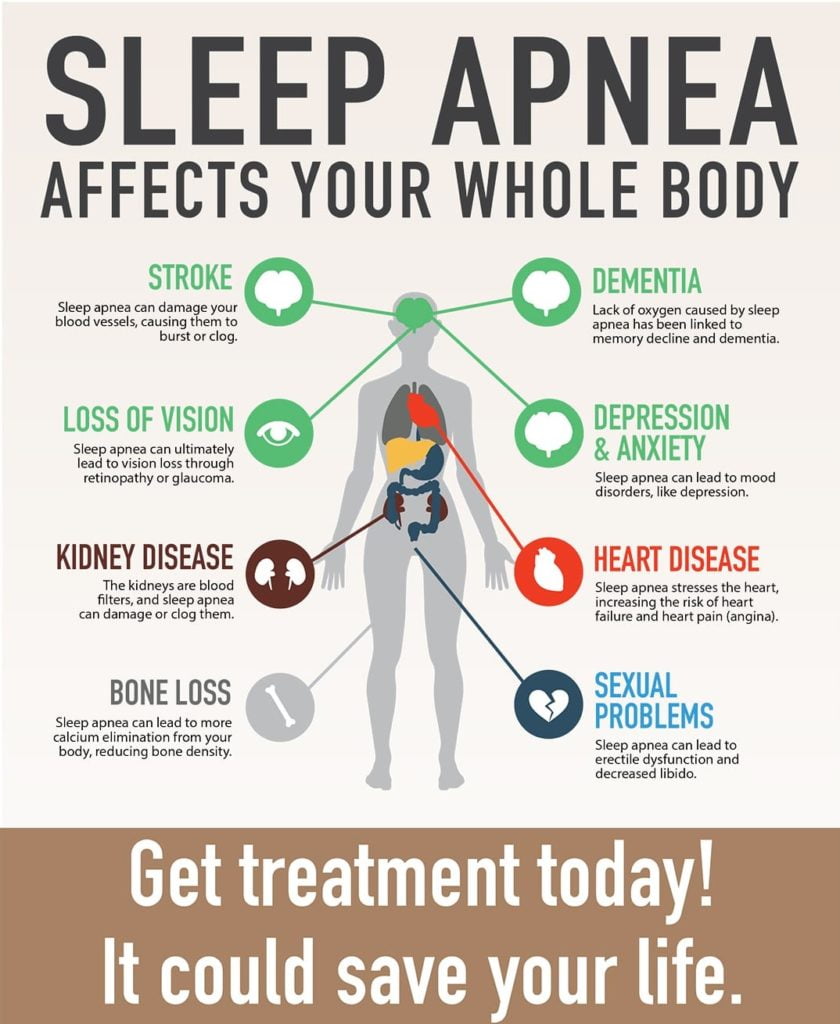 It is important not to ignore the signs of this condition because if left untreated can lead to further complications:
Headaches,
Heart Disease,
Stroke Risks,
Coronary Artery Disease (CAD),
High Blood Pressure & Cholesterol Issues,
Memory Loss & Inability to Focus,
Weight Gain, Obesity & Eating Disorders,
Decrease in IQ scores
Memory Loss and Inability to Focus
Sexual Dysfunction
NOTE: For women, there is a greater risk for infertility due to lack of ovulation during REM sleep stages because lower levels of Oxytocin are released.
Conclusion
The more you know about sleep apnea, the better. We hope to empower those with sleep apnea as well as educate those who don't have it yet but may be at risk for developing it someday. We encourage everyone to share this important piece of information with family members or friends if they think someone might need some guidance on how best to manage their breathing during sleep time. It can make all the difference in getting a good night's rest!
A Word From Mantra Care
Your mental health — your psychological, emotional, and social well-being — has an impact on every aspect of your life. Positive mental health essentially allows you to effectively deal with life's everyday challenges.
At Mantra Care, we have a team of therapists who provide affordable online therapy to assist you with issues such as depression, anxiety, stress, relationship, OCD, LGBTQ, and PTSD. You can take our mental health test. You can also book a free therapy or download our free Android or iOS app.